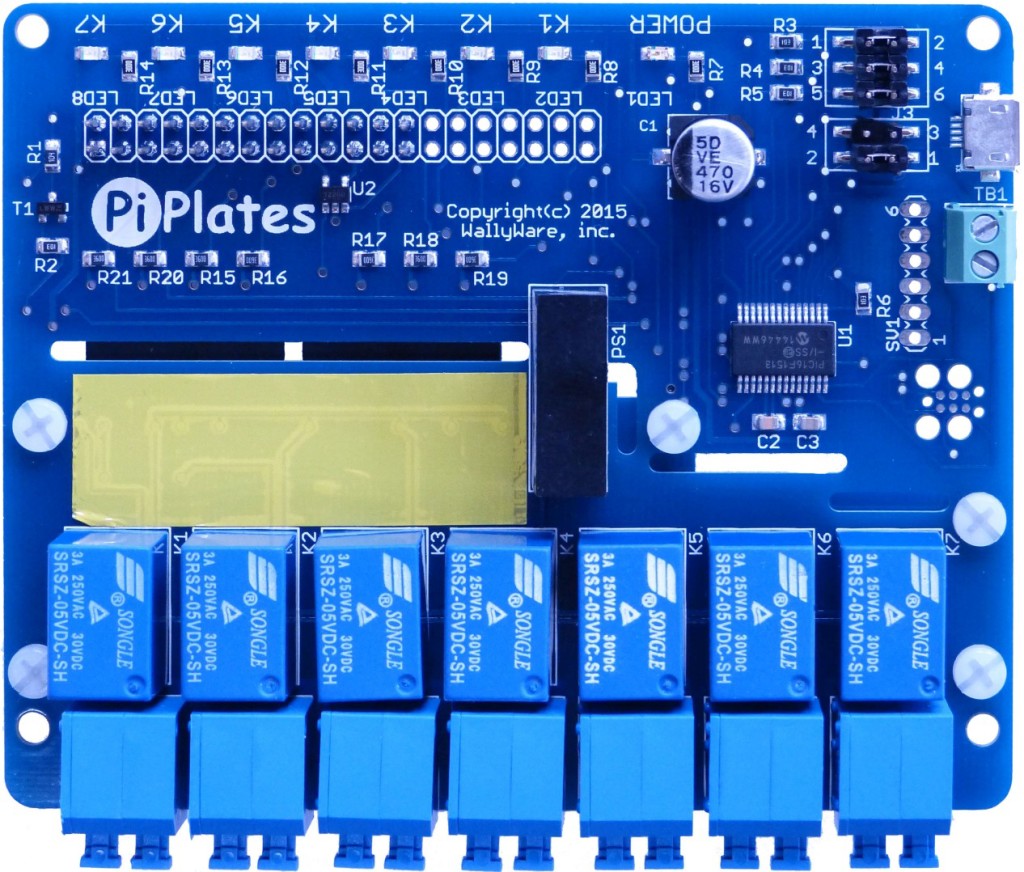 The Pi-Plates RELAYplate is the first dedicated relay board for the Raspberry Pi designed to meet the safety requirements of UL 60950 while being capable of switching 120 volts AC. Each of the seven relays is UL rated to switch 1 amp at 120volts AC or 30 volts DC. And, like all Pi-Plates, you can stack these boards to increase your relay count to 56 using eight plates. The RELAYplate board is compatible with our DAQCplate and MOTORplate allowing you to create the perfect stack of boards to control your project.
Features
Seven single-pole single throw relays
Rated at 120 volts AC or 30 volts DC
Currents up to 1 amp
Convenient screwless terminal blocks
Up to eight RELAYplates can be stacked together providing 56 relays
A single RELAYplate will run from the Raspberry Pi 5 volts DC supply
Auxiliary power connectors provided for stacking multiple RELAYplates
Includes programmable LED
Seven LED annunciators provide visual relay status
Dimensions: 100mm long x 80mm wide x 15mm high
Compatibility
DAQCplate
MOTORplate
PROTOplate
CASEplate
General
100% Tested
Dedicated onboard processor
Allows for future code updates
Only needs two dedicated RPI pins (GPIO 25 and CE1)
All features accessible via rich Python command set
Compatible with all versions of Raspberry Pi
Can be used in combination with all members of the Pi-Plates family
Safety
Designed to meet the stringent safety requirements of UL standard 60950
Screwless terminal blocks protect user from hazardous voltages
Bottom shield protects user from exposed solder pads
Opto isolators and isolated power supply provide 3000 volts of isolation between Raspberry Pi and relays
Complete protection against a single point failure
RELAYplate
The only relay controller available for the Raspberry Pi designed to meet UL standards.
$41.99Add to cart